Ignite the holidays with Winter Spirit!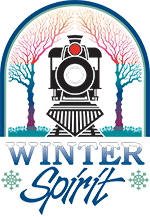 The lights will be turned on Saturday, November 20, 2021!
Due to continued concerns for public health and safety, there will be no lighting ceremony for 2021.  We invite visitors to come enjoy the lights at the park anytime during our open/on hours from November 20th through the first week of January 2022!
Ignite the spirit of the holidays with Winter Spirit!  The community lights up with interactive displays and dancing trees in Locomotive Park in Lewiston. A large gas fireplace warms visitors and children are fascinated with the pageant of colors. Displays are lit the weekend before Thanksgiving through the weekend after New Years Day.
Join us for a holiday tradition!
HOURS / LOCATION
Located at 2102 Main Street at the north entrance to historic downtown Lewiston, Idaho – Locomotive Park is the home to the Northwest's most beautiful and spirited light display! View the map below for directions.
Our lights are on beginning Saturday, November 21, 2020 to the first weekend of January 2021!
PARK HOURS:
Fireplace:
Sunday thru Thursday – 5:30 pm to 8 pm
Friday, Saturday & Holidays – 5:30 pm to 10 pm
Park Lights:
Monday & Tuesday – 4:30 pm to 10 pm
Wednesday thru Sunday – 4:30 pm to Midnight
Plus… 5:00 am to 7:00 am every morning!