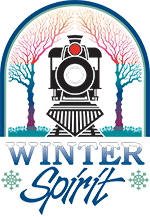 Taken from the Lewiston Morning Tribune article written by Elaine Williams 12/14/2001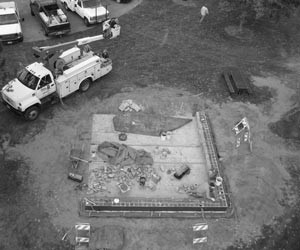 "Almost a decade ago, Larry Kopczynski helped string lights on a 30-foot-high Christmas tree outside the Nez Perce County courthouse. That same year Kopczynski visited a holiday light display in Tacoma, and he began to wonder what would happen if volunteers decorated trees that were already growing in Lewiston's city parks.
A licensed electrical engineeer, Kopczynski owned John's Electric at the time. The Lewiston Chamber of Commerce got wind of his idea. Kopczynski remembers sketching his idea to illuminate the engine at Locomotive Park, at the foot of 21st Street, on a napkin at a business breakfast.
It was the beginning of a Christmas tradition that now uses half a million lights to decorate Locomotive Park and delight hundreds of children each year.
Kopczynski…says his contributions are "almost a little selfish. If you have ever been at the park on a Friday night and see the joy on people's faces, there is nothing more rewarding. Now an investment representative at Edward Jones in Lewiston, Kopczynski says he likes using his electrical skills. "It allows me to be creative."
Kopczynski pays attention to the smallest details. He selects the music that plays in the background from his collection of…Christmas compact discs. "We seem to get a lot more response when it's really upbeat and everybody is dancing." The project began modestly. The first year, lights were strung on the locomotive and a dozen trees. It took three weekends with 20 to 30 electricians working just to lay wire in plastic piping to get power to the engine, Kopczynski says he remembers turning on the lights as the day turned to dusk that first year. The lights were barely visible. His heart sank. He worried donors would think their money had been wasted. He started thinking about how difficult it would be to go back and use larger bulbs. Then Kopczynski and the others took a break. When they returned later that evening, what they saw was much different. The lights were blazing bright against the dark sky. "We were in awe of how beautiful it was," Kopczynski says.
Since then, the Winter Spirit Committee has made additions as contributions allow. Kopczynski says every dime raised goes for lights, equipment or paying the…annual electrical bill. None of the crew is paid…not even for mileage.
Kopczynski says his family has provided inspiration for two of the most popular features – the archways that light up as children move through them and a dance floor that triggers lights in response to people's movements.
Kopczynski was with his family touring a light show in Spokane that had arches lit across a bridge. Kopczynski thought the lights on the arches should do something as cars went through, such as get brighter or change color. The people-sized arches in Lewiston are one of the trickiest parts of the display to arrange, Kopczynski says. It took a lot of time just to figure out where to place the motion sensors so they could be triggered at the right time.
Kopczynski was dancing with his 1 1/2 year old daughter when he dreamed up the dance floor. As they twirled around the living room to Windham Hill's "Summer Solstice No. 3," Koczynski thought it would be neat if their movements were choreographed to lights.
"I always tell my kids I did this all for them," Kopczynski says."
Today… the Winter Spirit Committee oversees an army of volunteers and manages a budget (funded fully from individual donations and area business sponsorships) to bring this amazing display to life. So bring your family to Locomotive Park and enjoy this very special event every Christmas season!